Northside Jobs
Submission to Fair Work to increase the minimum wage
Before the 2022 election Labor promised to submit a new submission to the Fair Work Commission's annual wage review, to argue that people on low wages should not go backwards. The Albanese Labor Government delivered on that promise in our first fortnight in office.
In June 2022 the Fair Work Commission delivered a 5.2 per cent rise in the minimum wage, above headline inflation. This will mean those on minimum wage or low-paid awards will receive an extra $40 a week.
Australia's low-paid workers will be better off because the Albanese Labor Government fought to get them a pay rise.
Many low-paid workers are young, female, in casual employment, and are far more likely to find themselves experiencing financial hardship. Many of them were on the front line delivering essential services during the COVID-19 pandemic.
They deserve more than our thanks. They deserve this pay rise.
This is a great result for these workers. But it's only the beginning.
For the past nine years, low wages were a deliberate design feature of the Liberal National Government's policies. They never once advocated for low-paid workers to get a pay rise.
That era is now over.I will continue to fight for more secure jobs and better pay for workers.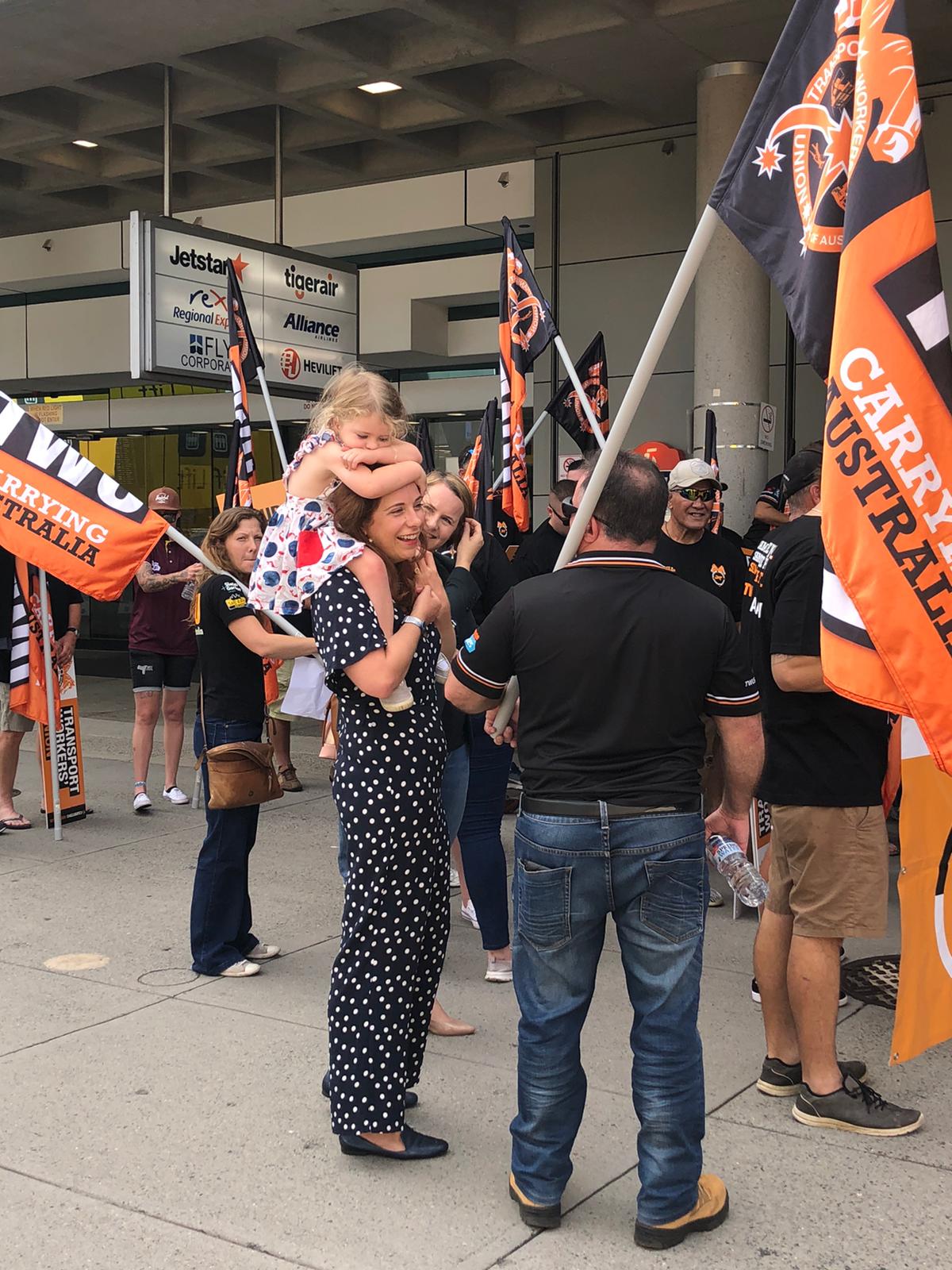 Supporting a pay rise for Aged Care Workers
My first task as Minister for Aged Care was write to the Fair Work Commission calling for a wage increase for our Aged Care Workers.
In November 2022 the Fair Work Commission made an interim decision for an increase of at least 15 per cent to minimum wages for aged care workers on a number of different awards.
The Royal Commission into Aged Care Quality and Safety recommended the Government contribute to this union-initiated work value case. Unlike the previous Coalition government, we delivered.
The Government's submission also made it clear we would fund an increase to award wages – and we will.
We're fighting for a better future for aged care workers and older Australians.
One of the main causes of the gender pay gap is low pay and poor conditions in care sectors like aged care, where the majority of workers are women. Increasing wages in aged care is essential to ensuring that men and women are paid equally.
If we don't start paying aged care workers properly, we won't be able to attract and retain enough staff to care for our loved ones and put security, dignity and humanity back into the aged care system.
We promised to fight for a pay rise for Australia's aged care workers and we did.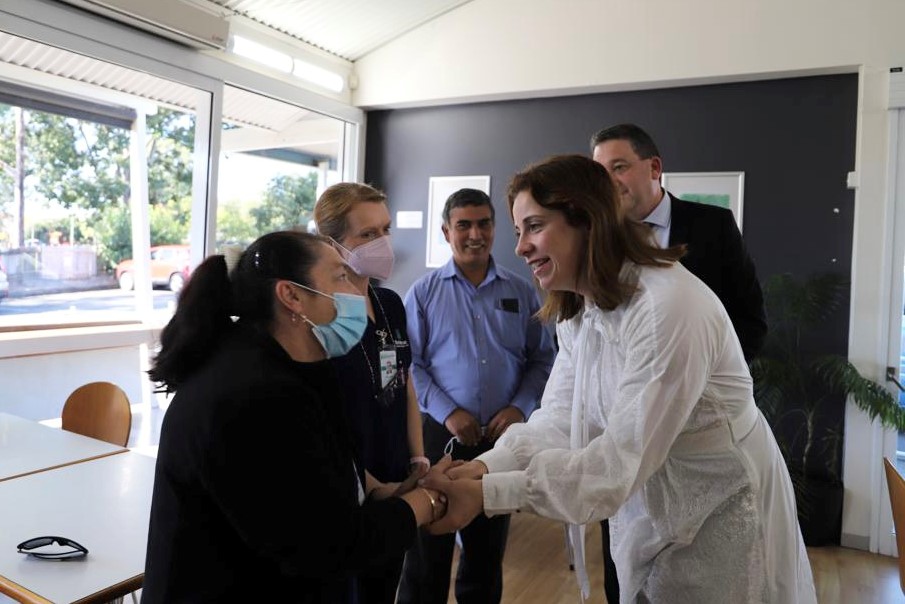 Jobs and Wages Growth
ABS data shows that jobs growth in the first six months of the Albanese Government is the strongest start for a new government on record.
Between May and November 2022, 234,000 more Australians were employed – growth of 1.7 per cent. This is also stronger employment growth than any of the G7 economies since May last year.
With growing global pressures set to impact us more in 2023, these results are really pleasing. Having more Australians in good jobs is one of our best defences.
ABS data also shows that wages are growing at their fastest rate in nearly a decade since the Albanese Government came to office in May – and the strongest wages growth has been for lower-skilled workers, who tend to be the lowest paid.
We said we'd get wages moving again and we are.
The Albanese Government's Budget and economic plan are all about delivering more well-paid jobs, growing wages and creating more opportunities for more people in more parts of our country – and our plan is working.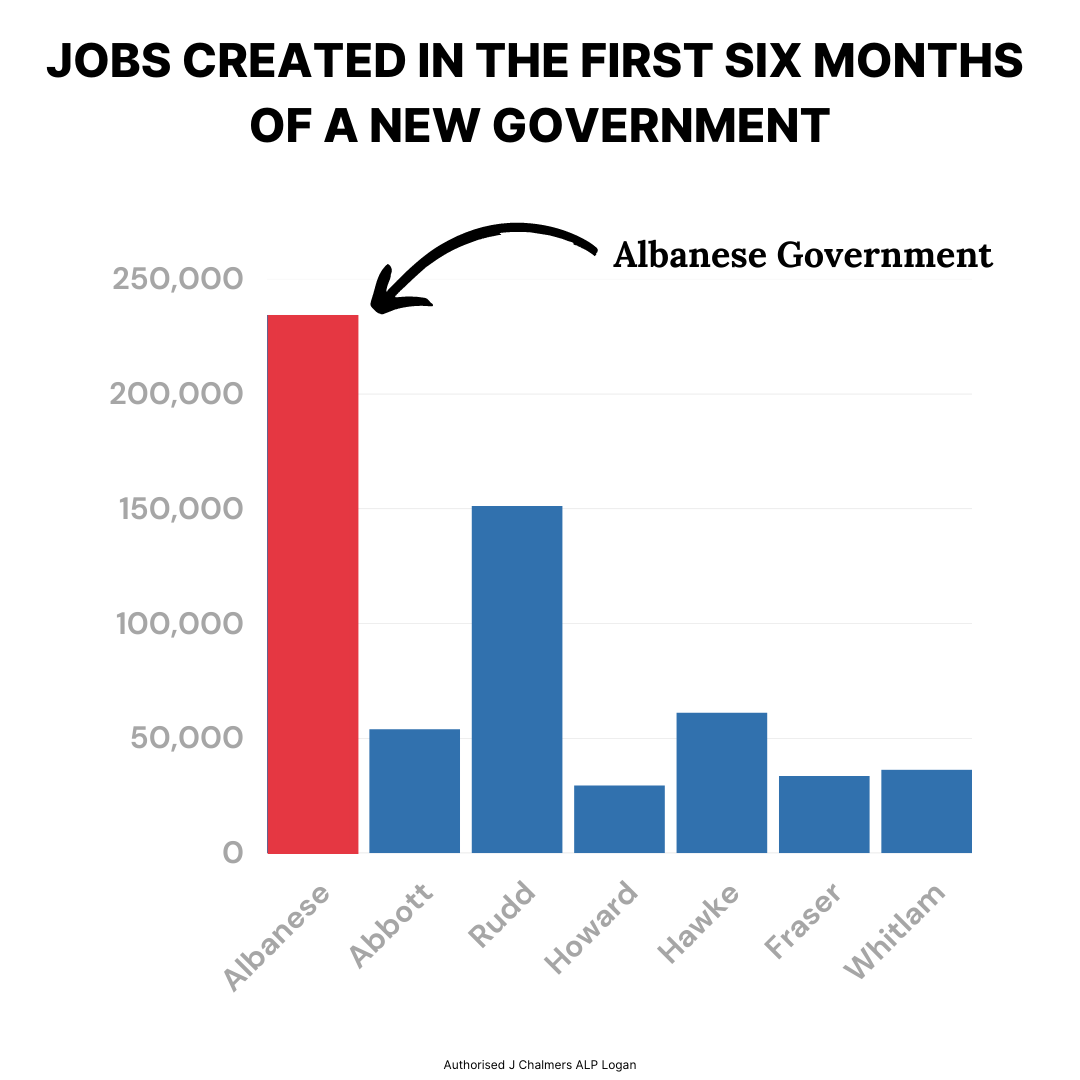 Rallying with Ovato workers in Geebung
In August 2020, I rallied with Ovato workers at Geebung who were under threat from having their enterprise agreements terminated and pay and conditions cut. These workers fought around the clock in 2020 to support Ovato through the pandemic and in return were burnt by the company and the Morrison Government.
The Coalition Government's Attorney-General at the time, Christian Porter, knew about Australian printing giant Ovato's plan to restructure months before workers and their union were told and did nothing to protect them. On behalf of the workers, AMWU wrote to the Morrison Government urging them to intervene in the NSW Supreme Court case that left Ovato workers without pay and entitlements, but they refused.
A worker at the Geebung site in Queensland said in a public statement: "There are guys here with 35 years of service who have been loyal to the company and suddenly their entitlements are being ripped away. It's disgusting."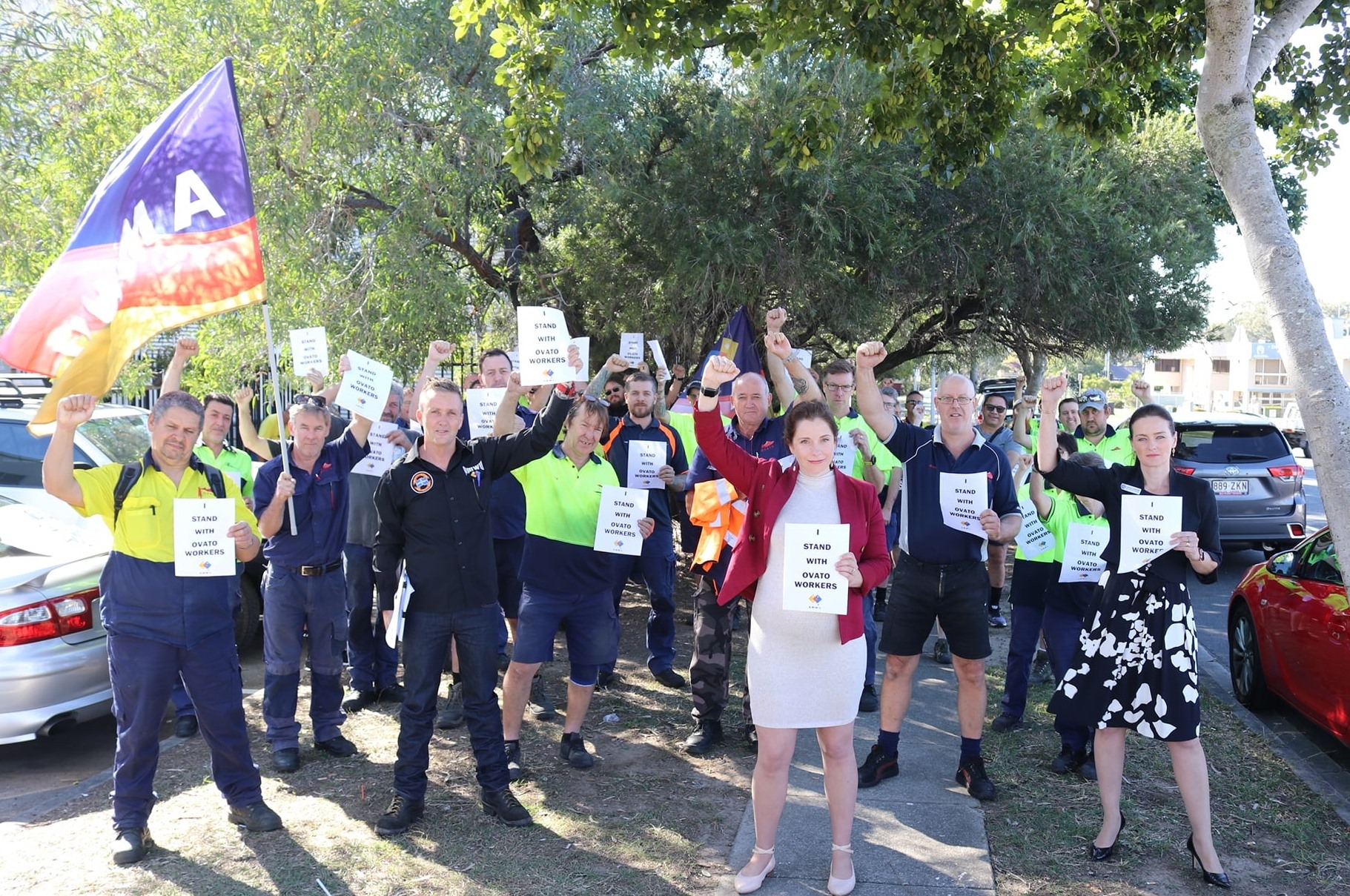 Fighting for Greyhound Australia workers in Pinkenba
In June 2021, I wrote to the Deputy Prime Minister on behalf of 77 workers at Greyhound Australia in Pinkenba. In my letter, I called on the Morrison Government to expand the federal travel subsidy in lieu of reintroducing JobKeeper for tourism businesses that were struggling to stay afloat during COVID. Frustrated by the Deputy Prime Minister's weak response to my letter, I went into Parliament and delivered a speech fighting for the 77 workers at Greyhound Australia in Pinkenba whose jobs were on the line due to the policy decisions of the Morrison Government.
Standing shoulder-to-shoulder with Toll workers on strike
In July 2021, a Northside worker named Chris Smith came to my Banyo mobile office and asked me to sign a pledge to support Toll workers heading to Fair Work to protect their job security, work conditions and industry standards.
On 26 August 2021, I stuck by my word to Chris and proudly stood side-by-side Toll workers and TWU delegates at the Brisbane Airport as they walked off the job site at midnight to begin their 24-hour strike.
During the pandemic, our delivery drivers and truckies have put their lives on the line to keep our country moving and deliver food, PPE, and vaccines.
They've kept our economy in motion when our brick and mortar shops have closed in lockdowns.
Instead of rewarding their workers with job security and safe work conditions, Toll is planning to sell them out in a bid to compete in a race to the bottom with exploitative business models like AmazonFlex,
Toll is trying to do what Qantas tried and failed to do to their workers – scrap their worker's entitlements and engage outside workers on minimal pay and with fewer rights.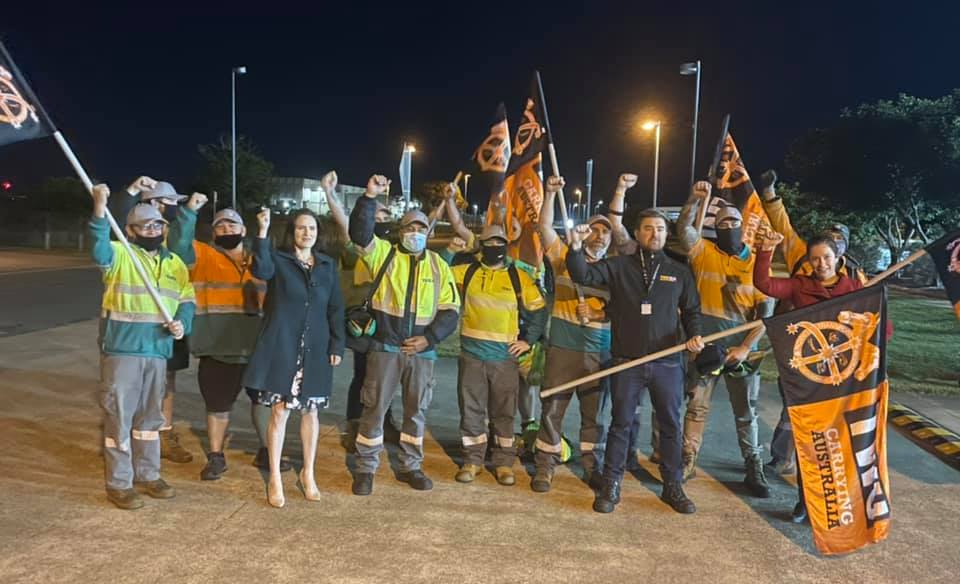 Recent advocacy for Northside workers in Parliament
Click the links below to see a few of my recent speeches fighting for Northside workers in Parliament.
Recent advocacy for Northside workers in the media
Click the links below to see a few of my recent media appearances fighting for Northside workers.